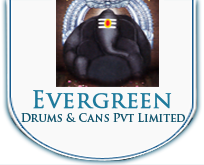 | | | | |
| --- | --- | --- | --- |
| | +91(033)2554 4354 | | +91(033)2554 4354 |
| | |
| --- | --- |
| | kamaljhunjhunwala@evergreencans.com |
210 Ltrs. MS Barrels
In 2010 we have started 210 ltrs, drums/ barrels manufacturing with state of art machinery from Europe and other countries, the plant has capacity to produce 360 drums/barrels per hour with complete automatic line. Based on the past experience the company realized the need of state of art drum making to cater the lubricants and food processing industry with quality drums/barrels. Our State of Art Drum making facility is set-up at our Titupati Plant in South India, where we are manufacturing Open Head as well as Tight Head Barrels of all specifications. We have a very experienced & dedicated team of expertise from this Industry to ensure to meet our Customers requirement.

Our Seven Stage Degreasing System helps us to to achieve best Surface Treatment before Painting.The Two stage Leak Testing facility online in our system ensures completely Leak Proof Barrels.
Steel Drums/Features
Automatic Sealing Applicator
Controlled automatic guns are used for applying seaming compounds for uniform application and minimum wastage.Reduces chance of contact of seaming compounds with filled in product.High quality seaming compound used with high degree of chemical resistance.
High Internal Cleanliness
Fully automatic internal and external degreasing plant is an on-line process,each drum on-line is cleaned both internally and externally treated to maintain clean surface and prevent rusting.Surface preparation facilitates excellent painting as well as internal coating as applicable.
Specially compressed triple seams construction guarantees complete integrity and sealing of the drum ensuring no leakage.
Better Design Corrugation
Offers higher resilience ever to light weight drums.
Drums are internally coated with epoxy/lacquer using sophisticated spurting guns for uniform application.Drums are pretreated to facilitate good quality coating and a sophisticated baking process is adopted.
Superior Painting Quality
Sophisticated painting system ensures uniform and high gloss painting.Integrated microprocessor controlled baking oven guarantees uniform and reliable curing of pure stowing enamel paint,resisting chipping off/abrasion during transit.Specialised v-axis paint enables painting of seams as well.
W-Bead Rolling Hoop design
Specially profiled w-shaped rolling hoop formed by corrugation below and above the rolling hoop which is positioned slightly inside.It provides additional rigidity(vacuum resistance) and imparts greater stacking strength.Unique profile prevents hoops protruding unlike conventional drums from fouling with each other and consuming larger stacking space.4 drums can easily be stacked side by side in a shipping container.Reduced chance of paint peeling off due to the hoops not rubbing against each other,enough protrusion to aid rolling of drums on hoops and protect/labels on the side body.